Terms of service
1. Definitions
Working Day: Monday to Friday, exlcuding all bank holidays.
Report: All inventory makes, updates, check-ins and check-outs.
2. Scope
2.1. Any separate agreements, evidenced in writing or email, override the contents of this document.
3. Price
3.1. All quoted prices are subject to confirmation of the size and furnishing of the property.
3.2. If the property is found to have more rooms or a different furnishing status then was stated when the booking was made, there may be an additional charge.
3.3. Any additional charges will be agreed with the contracting party before compilation of the Report.
4. Payment
4.1. Payment is to be made in advance or in cash on the day the Report is scheduled to take place.
4.2. Payment is due from the contracting party.
4.3. TC inventories reserves the right to delay the delivery of a Report until payment has cleared.
5. Services
5.1. Inventory compilations will provide a detailed list of the contents and the condition of the property. The descriptions are only to enable a specified item to be identified and only visible or notable defects will be listed.
5.2. When conducting a Report, items in locked cupboards, lofts, unlit basements or otherwise in areas that are not accessible will not be inspected by TC inventories and will be noted as such. Similarly large furniture items will not be moved to inspect concealed walls and floors. Electrical equipment is tested for power only and then only when practicable. Boilers and gas heating systems will not be tested.
5.3. TC inventories reserves the right to generalise small, low value items (e.g. old cheap kitchen utensils) when drafting a Report.
5.4. The property will be fully photographed with detailed pictures taken of any noted defects.
6. Delivery of Reports
6.1. Subject to 4.3, TC inventories will make all Reports available to the contracting party in digital format by noon the next Working Day.
6.2. Bound paper copies of Reports will only be made available if requested and at a charge of £10 plus VAT per copy. This includes a CD with copies of all photographs taken.
7. Aborted Visits and Cancellations
7.1. Any Report cancelled with less than 5 Working Days notice will be deemed cancelled.
7.2. Any Report cancelled with 1 or less Working Days notice will be deemed aborted.
7.3. If the clerk is unable to fully access the property at the arranged time (e.g. where a tenant is not ready to leave the property at the scheduled check-out time) the Report will be aborted.
7.4. If the clerk is kept waiting for more than 30 minutes, for any reason whatsoever, the Report will be aborted.
7.5. Cancelled Reports will be subject to a fixed charge of £20 plus VAT.
7.6. Aborted Reports will be subject to a fixed charge of £40 plus VAT.
8. Complaints Procedure
8.1. Upon delivery of a Report the contracting party has 10 Working Days to notify TC inventories of any errors or omissions it wishes to be corrected.
8.2. Any such complaints shall be answered within 2 Working Days. An amended Report will be supplied if deemed necessary.
8.3. A detailed explanation will be given where we stand by the contents of our original Report.
8.4. If a subsequent visit is required, this shall be done free of charge at a time that is mutually agreed.
9. Meter Readings
9.1. Meter readings will not be taken if they cannot be found by the clerk making reasonable effort.
9.2. If meters are not located in an obvious place you are advised to inform TC inventories of their location when making a booking.
9.3. Readings are taken for information purposes only and should be verified by the relevant utility company.
To make a booking, call now on 07530 210608 or email info@TCinventories.co.uk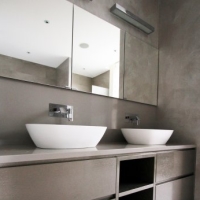 "TC inventories were a great help"
Sam Topper
Independent Landlord